Firmware Update For Ugoos AM6 V 0.2.1
Huge update for new Ugoos Amlogic S922 device.
Our team picks up a lot of feedback and puts many efforts to make a new firmware better for users. The most important parts of update related to video and audio playback and many other improvements so we split one huge pack onto two updates so we put in two changelogs.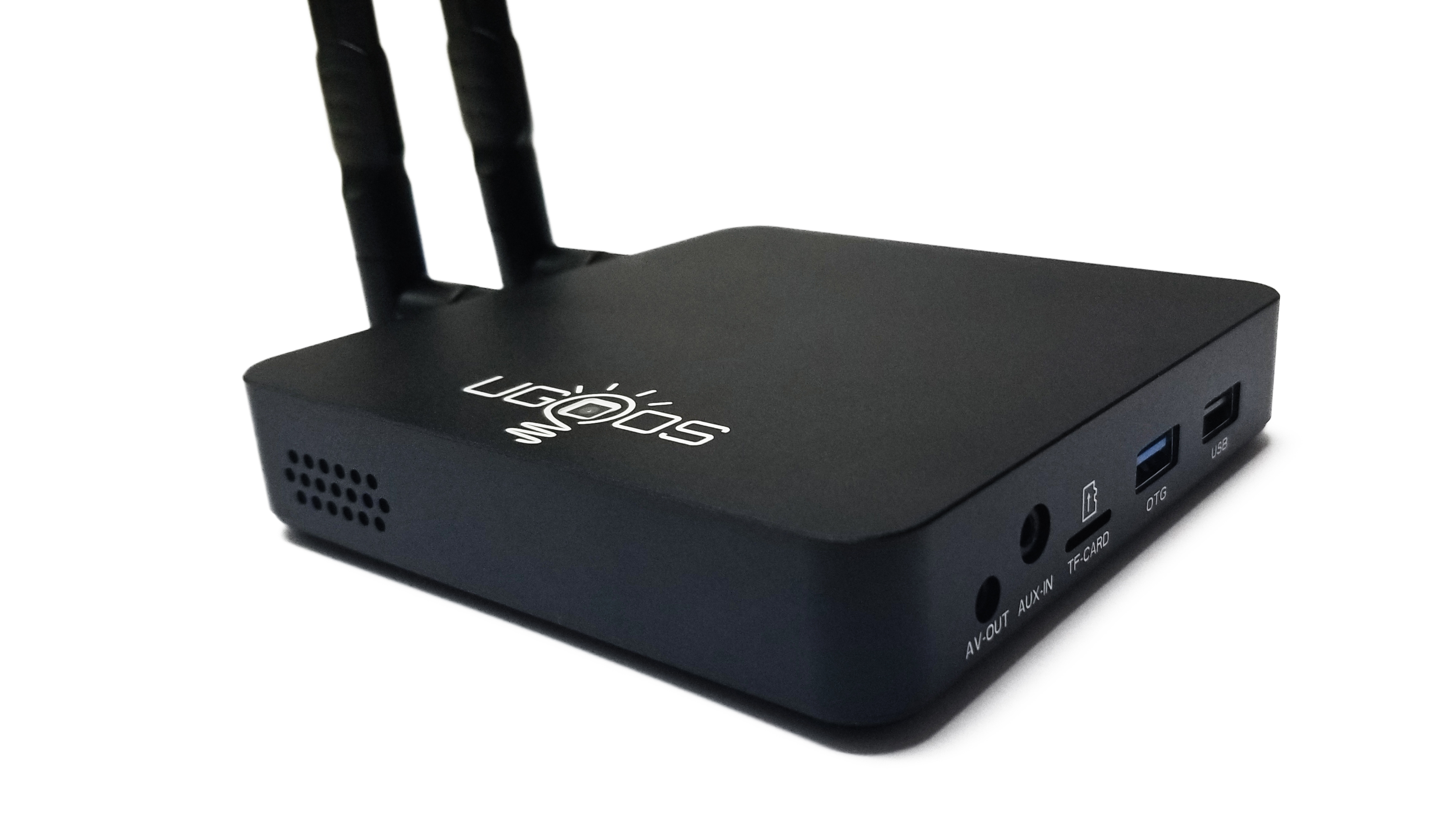 Update details:
We rework passthrough functional abilities of a TV Box in order to make it more comfortable to use with different audio systems.

Audio tracks switching is no work smoothly and no need to start over a video again to use another track. Now Ugoos AM6 pass to receiver Dolby TrueHD and DTS-HD supported videos normally so if your device support it, you can enjoy high quality sound performance on your audio and video devices.

Another part of fixes related to video channels from IPTV sources, a problem with fps now fixed. IPTV playback stability improved for different kind of sources.

CEC function via HDMI gets improvements: we add several new options that help to control device and extend the range of supported devices.

Visual changes also arrived: we have changed the quick panel button a bit and "Back", "Home", "Recents" icons.

New firmware gets an extended support for various remote controllers and airmouse models. Several new control buttons were added for Gamepads customization feature.
For passthrough function over receiver or other devices, we suggest to use KODI or VLC players.
In order to enable this function you need to activate settings related to DTS sound in KODI settings: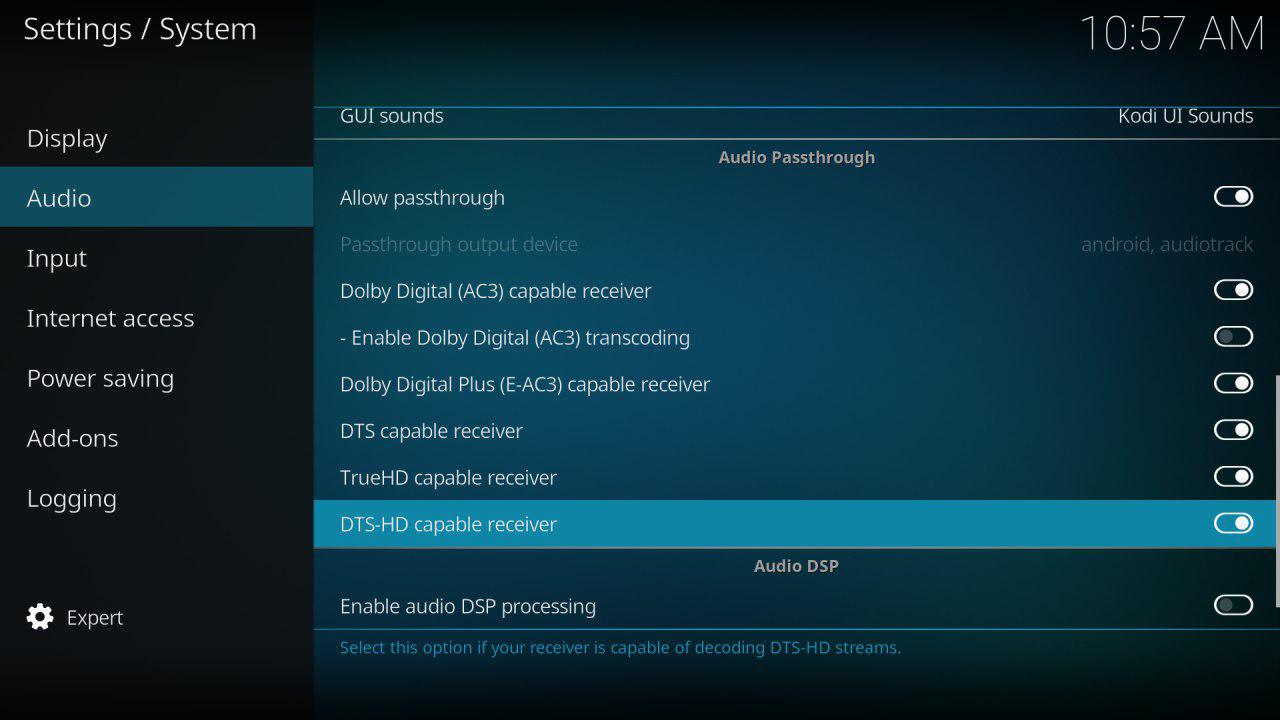 You need run Audio settings in "Expert" mode and switch on capable receiver settings related to that kind of audio you want to passthrough.
For VLC player you need to turn on "Digital audio output (passthrough) checkbox: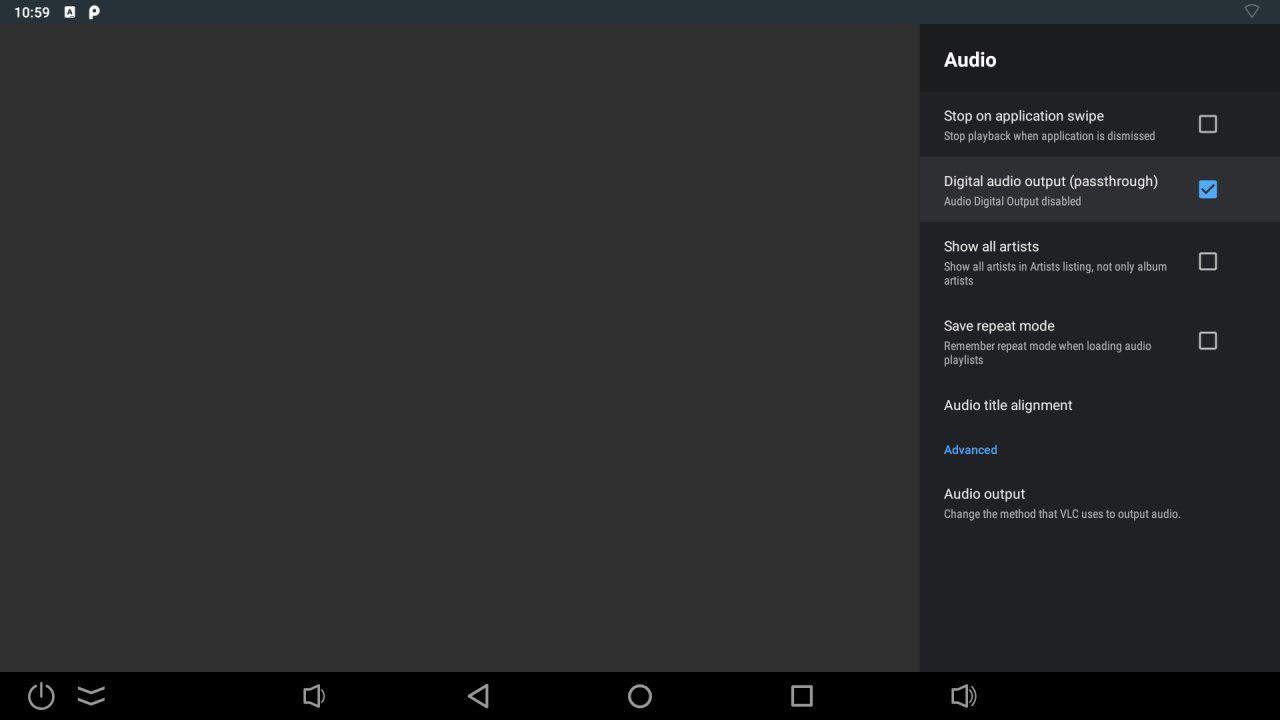 Full list of improvements and download link below.
Changelog 0.2.1 and 0.2.0
1. Fixed switching audio tracks (passthrough)
2. Added DTS-HD and Dolby TrueHD passthrough support in Kodi, VLC
3. Fixed IPTV fps problem when starting a channel
4. Many other video codec fixes
5. Fixed waking up in different apps
6. Added new HDMI CEC options
7. Updated icons "Back", "Home", "Recents"
8. Fixed interface rotation problem if use quick panel button
9. Added USB Realtek Ethernet support
10. Added Ugoos Launcher as pre-installed application
11. Other system stability changes
AND
1. Fixed video rotation
2. Fixed video scaling higher than 100%
3. Added write permissions to external storages for applications
4. Fixed button loss for input devices settings
5. Added buttons MOVE_END, MOVE_HOME, F2-F5 for input devices settings
6. Removed camera event when double press the power button
7. Added default keylayout for g20s air mouse
8. Fixed air mouse microphone
Firmware & Full OTA Pack for Ugoos AM6
---
Find us:
---
Comment(S) (11)
Comment by Lubo | 09.10.2019

Hi, To be considered for the next firmware update with support Magisk, as is the case with UGOOS AM 3? Thanks

Comment by Marleyb | 11.10.2019

I bought a ugoos Am6 and it is unable to play YouTube at 1080p I am so disappointed that I purchased this box

Comment by Ed urrutia | 16.10.2019

Greetings, i love the box, I'm hoping on your next firmware update you can overclock cpu speed my am6 only runs at 1.8 ghz, i bought this box for the 2.2 ghz that all reviewers mention I was not aware that there was 2 different clock speeds on the boxes that were being shipped out, i know you will do right thing for customers that purchased your boxes. Thank you, sincerely

Comment by Vladimir Gurin | 05.11.2019

I have your AM6 device. Does not work passthrough DD true HD and DTS-HD, voice search. I updated the device by usb to firmware version 0.2.1 There was version 0.1.1 Used the file AM6_ota_0.2.1.zip But there is no change! What have I done wrong?

Comment by Wilbert | 07.11.2019

How do I update 0.1.1 every time I try to update says error

Comment by Admin | 11.11.2019

to Wilbert: Please send a message with details via support@ugoos.net

Comment by Hristo | 04.12.2019

I bought ugoos am6, uploaded firmware 0.2.1, my Yamaha rx-v677 receiver supports dts-hd ma and dolby true hd why your tv box doesn't send passthrough HD signal to my receiver? Only DD works. You assured me that after your upgrade everything is fine. Why you give wrong information. Do you think this is correct?

Comment by Lert | 09.12.2019

My AM6 with firmware 0.2.3 still cannot passthrough Dolby True-HD nor DTS-HDMA, in both Kodi and VLC. I wasted my money buying an AM6.

Comment by aaron.syaiful@gmail.com | 12.12.2019

Hi, I tried to install apk app but it shows error 7002 app will be terminated. Do you have solution to solve it? Thanks in advance.

Comment by aaron.syaiful@gmail.com | 12.12.2019

Hi, I tried to install apk app but it shows error 7002 app will be terminated. Do you have solution to solve it? Thanks in advance.

Comment by Hristo | 22.12.2019

There is no point in writing to them. You're wasting your time, no one will pay attention to you!
Успешно отправленно