Firmware Update v0.3.1 for Ugoos AM6 & v0.3.1 for Cube X2/X3 Models
IMPORTANT:
This update will not come via OTA automatically. You need manually install this update in order to use it. Using release candidate firmware you still will be able to update your device via OTA, if you want to continue using automatic stable updates.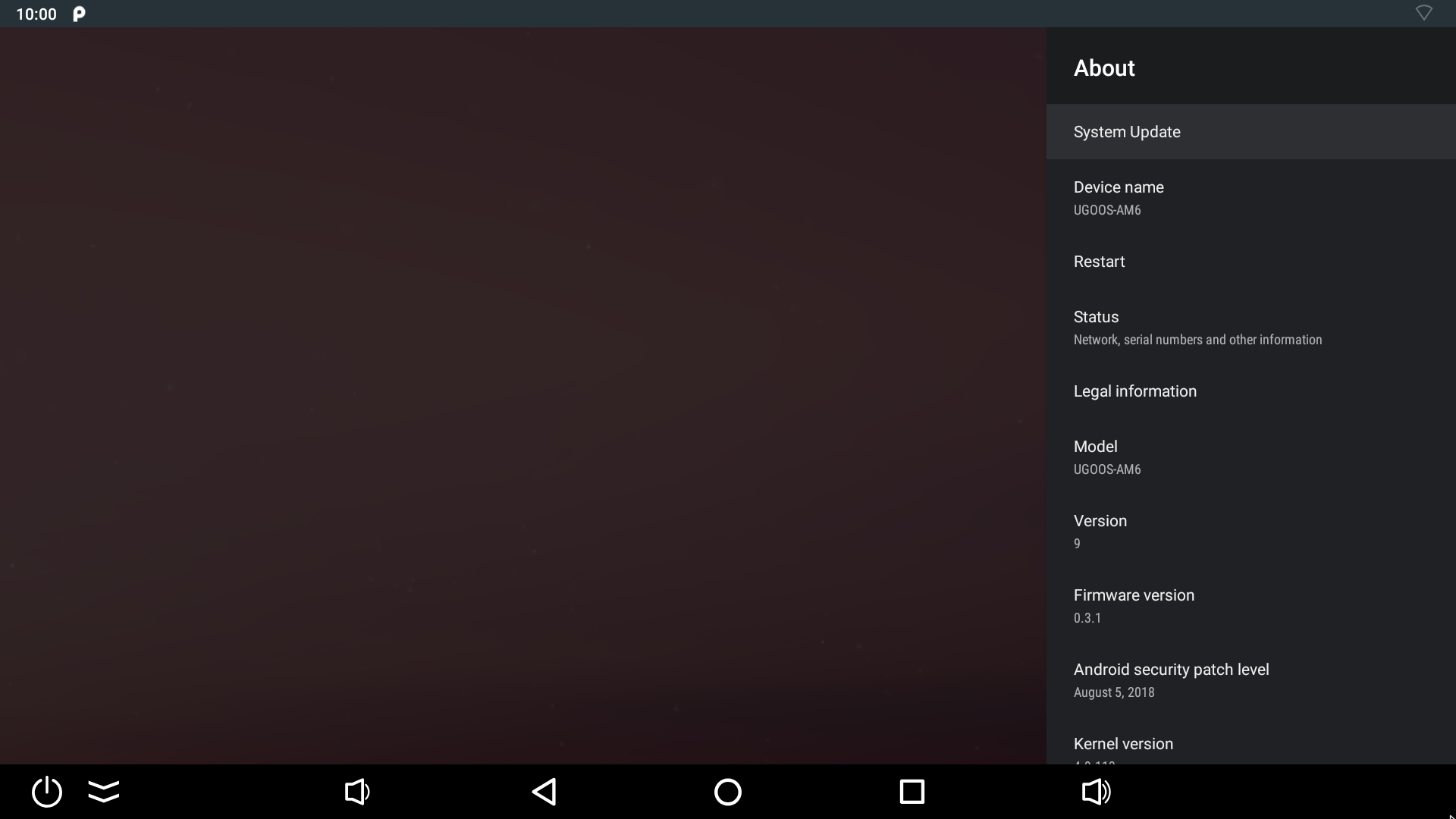 New update brings a really big bunch of improvements. This time we pay a lot of attention to our video settings. Trying to make them more logical and user-friendly, we made a huge rework. Mention the most important one here:
Update logic of Dolby Vision function: now DV enables only when video source contains DV streams and provide a force start for this function. Also added conversion from Dolby Vision to HDR10 if your TV does not support the first option but supports the second one and HDR10+ to HDR10. By the way, if your output device does not support DV at all, this setting will not be available automatically.

Due to your requests: we have disabled "SDR to HDR" function by default. Also added color mode settings for 4k 50-60Hz modes, changed a logic of color modes for bad HDMI cables. Added ability to mute in HDMI and SPDIF sound source.
Another big pack of improvements related to network settings and surroundings:
Fixed a lot of bugs regarding local network options: added write to external storages permissions for apps (CIFS, NFS clients), fixed long shutdown if CIFS client connected via Wi-Fi, fixed bug of general unmount for CIFS, NFS clients and others

We have added security option to CIFS client (Authentication protocol)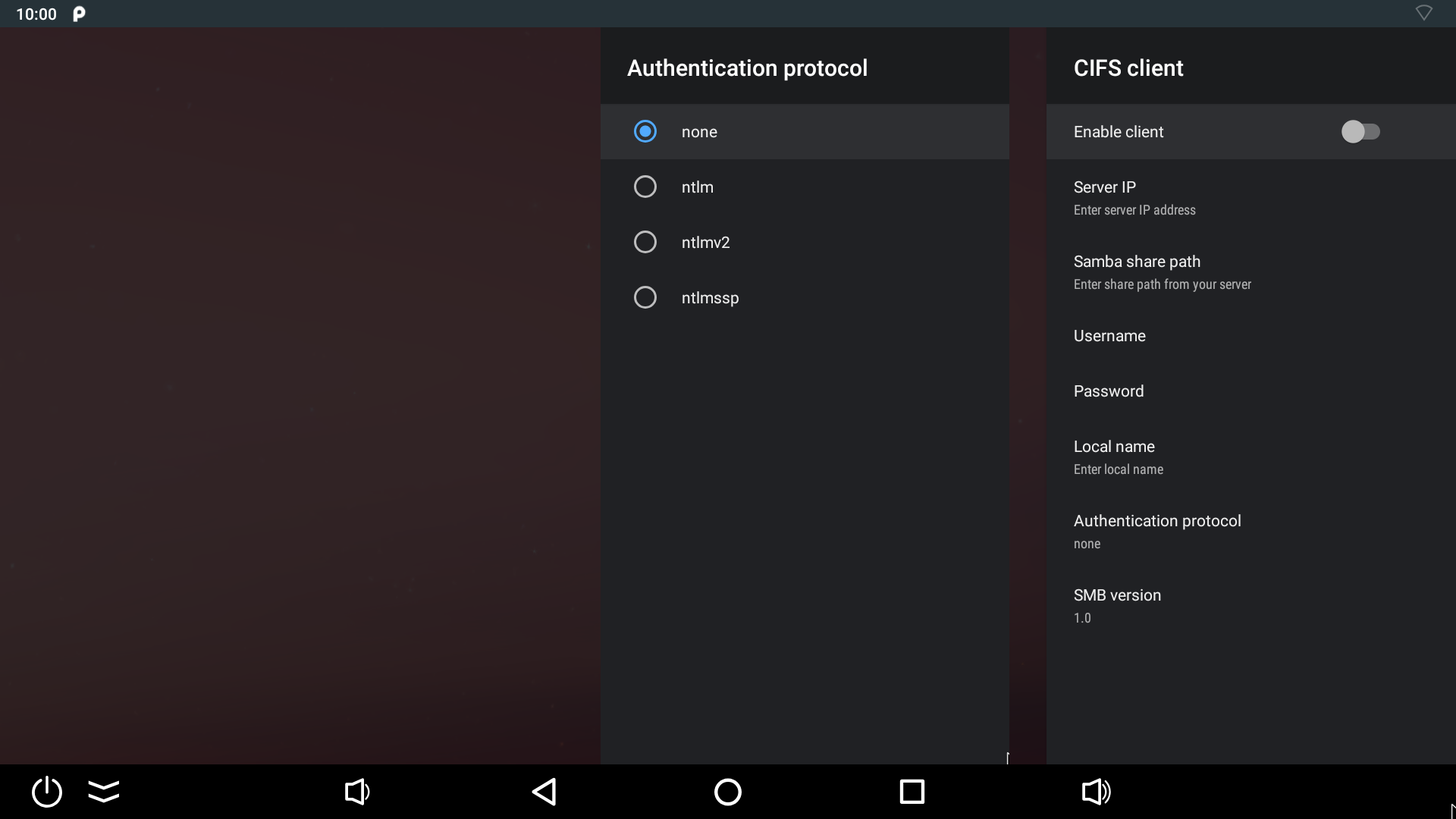 3. Added SMB2, SMB3 support for CIFS client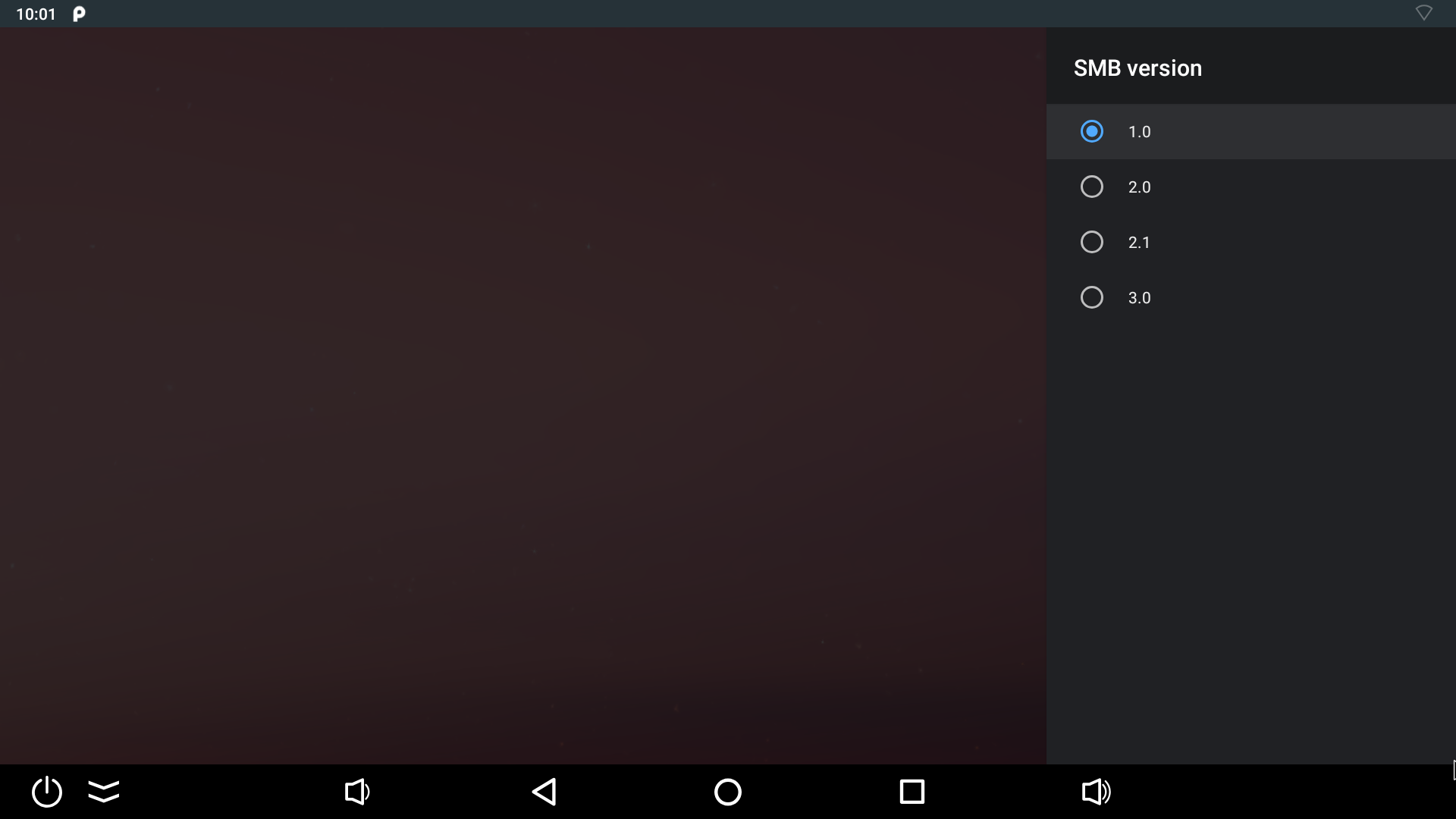 All the list of improvements and changes are in the changelog down there.
Changelog 25.10.2020 v.0.3.1
1. Added support of multichannel PCM audio in HDMI
2. Fixed playing of big MP4 HTTP streams
3. Fixed HDR10+ work
4. Added conversion from HDR10+ to HDR10, if not supported
5. Now, Dolby Vision enables only when source is Dolby Vision and added setting for force enable Dolby Vision
6. Added conversion from Dolby Vision to HDR10 if TV not support Dolby Vision and support HDR10
7. Hide Dolby Vision settings in case if not supported by device
8. Disabled SDR to HDR by default
9. Added color mode setting for 4k50-60 Hz modes
10. Some changes of color modes in auto mode for bad HDMI cables
11. Some visual changes of Color mode settings
12. Fixed some HDMI hotplug bugs
13. Added saving resolution and color modes for OTA updates
14. Added write to external storages permissions for apps (CIFS, NFS clients)
15. Added security option to CIFS client (Authentication protocol)
16. Added support of SMB2, SMB3 to CIFS client
17. Fixed getting state of client (CIFS, NFS) if there are spaces in name of shared folder
18. Fixed long shutdown if CIFS client connected via Wi-Fi
19. Fixed bug of general unmount for CIFS, NFS clients
20. Some improvements of mount CIFS, NFS clients after network connect
21. Changed some strings for CIFS, NFS clients settings
22. Fixed saving volume level for bluetooth devices
23. Fixed SPDIF passthrough for using auto surround setting
24. Added ability mute of HDMI and SPDIF sound
25. Moved power action settings from Screen saver to Power in TvSettings
26. Added 1 minute for screensaver timer
27. Added 5 setting volume regulator steps
28. Added Belarus localization support
29. Some improvements of Update Service
30. Fixed location settings for new google play services
31. Hide virtual device of ATV remote service in Gamepad settings, Input devices settings
32. Fixed rare bug when display mode did not return with system AFR function
33. Fixed SPDIF sound clicks on X3
And 0.3.1 additional updates:
1. Fixed CPU load problem
2. Re-hide Dolby Vision settings
Files:
Firmware and Full OTA Pack for Ugoos AM6/AM6 Pro/AM6 Plus v 0.3.1
Firmware and Full OTA Pack for Cube X2 Family v 0.3.1
---
Comment(S) (9)
Comment by messer | 29.03.2020

Hi, I have just tested the Ugoos-Feature "User scripts" / init.d . Although root access is available the script is not executed with root rights. Is that a mistake or am i doing a mistake? Best regards messer

Comment by messer | 30.03.2020

I am playing around with your firmware version 0.3.1 since some days and I would like to leave some comments: (a) Samba-Server: The samba server is running quite smoothly but unfortunately I am not able to enable access to the root directory "/" of the AM6-Plus when I am using Magisk as the root solution. It would be very benefitial if you could enable this option even when Magisk is used. (b) AFR (Auto Frame Rate): In the changelog for firmware version 0.2.3 you mentioned "Improvements of system automatic frame rate function for more stable work with program AFR functions" I am not sure about the differences of both options and how to combine them in the best way. (c) Status bar and navigation bar: When using an app with white background the navigation bar isn't visible anymore. It should be an easy fix to enable a semi-transparent background for both bars (for example a light grey background with a 50% transparency). (d) init.d-Support: As part of the Ugoos features you have added an init.d service - great idea. But unfortunaley scripts will only be executed as user scripts and not as root scripts. Due to the fact that you are offering root access anyway I recommend enable a "real" init.d support (with root access) for your devices (init.d directory in /system/etc). (e) Fake Wifi: In firmware version 0.3.1 the Fake Wifi option function is not included anymore. Please could you add this option again in further versions? Best regards messer

Comment by Junoxe | 30.03.2020

I agree. Simulated WiFI should be available. Shouldnt it cause thats some apps would recognise it as deviced is rooted. Thank You.

Comment by Junoxe | 30.03.2020

Forgot to add. WiFi and ethernet should work simultanously. To have 2 IPs in same time.

Comment by Peter | 09.04.2020

My ugoos am6 plus turns on by itself from the off state. I've come home from work and for some reason the box has turned on by itself. Anyway to work out why?

Comment by Peter | 12.04.2020

I should also note I have cec turned off and even left the box unplugged from HDMI overnight and it was back on by the morning. Still testing to see what's causing it to turn on

Comment by Eric | 24.04.2020

I have the exact same problem as Peter with my AM6. I noticed that it turns on by itself when the LED on the box is blue during the off state. It does not happen when the LED is red. (To get red LED, switch main power off and back on again.)

Comment by 韩先生 | 27.04.2020

am6 plus的0.3.1双系统固件需要优化,双系统下的安卓版kodi跟ce下的kodi播放高码率影片都存在卡顿现象,实测单独安装0.2.9纯安卓版本,安卓下的kodi跟ce均流畅播放!!!

Comment by Hanto | 01.05.2020

Please two questions : - Can you tell me if all Dolby Vision are they supported (DV07 include) with .mp4 and .ts files ? - What version AM6, AM6 Plus or AM6 Pro have best performance ? Thanks a lot
Успешно отправленно