Brand new Ugoos Device is on the way to the final stage of pre-production testimonials.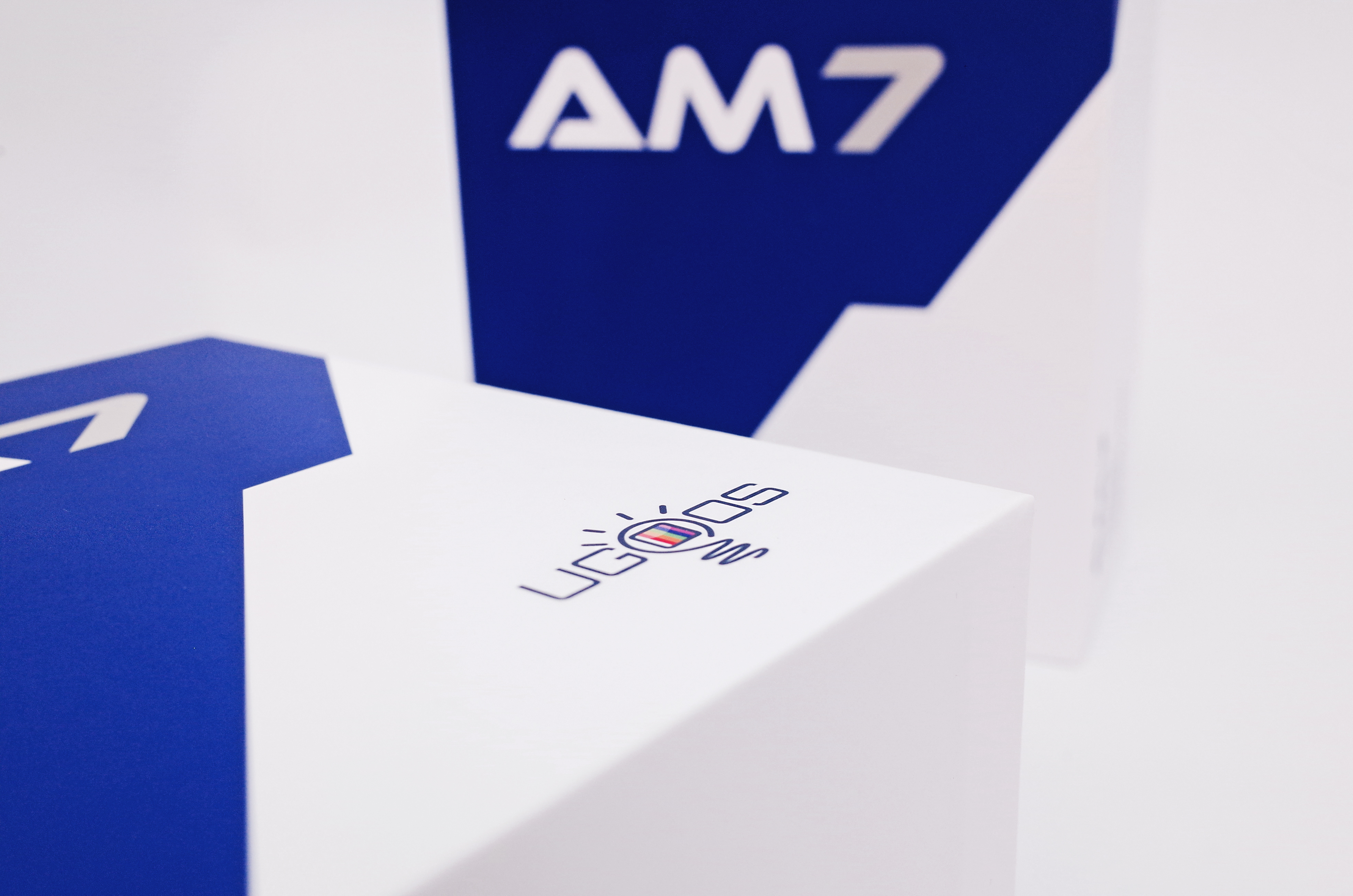 Ugoos AM7 will be a new model in the line of Brand devices in 2020.
Among the details we can share now are:
Brand new wireless chipset with WIFI 6 MIMO support and Bluetooth version 5
In order to perform high-level wireless connection we going to use dual antenna schema for better MIMO technology coverage as we did with Ugoos AM6.
USB Type C OTG Port on board with USB 3.0
Different ports versions make double abilities to connect and use a wider row of peripheral devices
First devices on the market will be available with high quality RAM modules 4GB DDR4 and 32 GB EMMC. About other options we will notify later.
Find us:
---
Comment(S) (39)
Comment by karl persson | 28.10.2020

Sounds great! Any ETA when it can be delivered to Europe?

Comment by karl persson | 28.10.2020

Sounds great! Any ETA when it can be delivered to Europe?

Comment by Виталий | 30.10.2020

Цена интересует какая будет и на какой месяц планируется выпуск?

Comment by Peter | 06.11.2020

Sound interesting. Have you managed to fix the optical SPDIF connection limit of 96KHz in stereo, present in AM6 model ?

Comment by Fernando Antonio do Nascimento | 12.11.2020

Entregam no Brasil?

Comment by Totò | 21.11.2020

Ugoos AM7 sarà disponibile per Natale? Grazie

Comment by Derek Adams | 25.11.2020

Any possibility of it having 64g of ram? How soon is the release date?

Comment by Peter Karlsson | 18.12.2020

Soon 2 months since this announcement and "soon" have got anothe meaning for me :) Any updates??

Comment by Rick | 28.12.2020

Looks great. When will this be released?

Comment by b00st | 06.01.2021

Is it possible to implement a HDMI 2.1 EARC Port? That would be NextGen because I think most of the people use the Player as a Mediaplayer. Any updates about specifications so far? It's 2021 and since near 3 months no statements

Comment by alex | 14.01.2021

I think most important part would be the get certificates for DRM contents

Comment by Roger | 17.01.2021

Can you please share a estimated release date. I am about the buy a tv box so if am7i close i can wait

Comment by D | 01.02.2021

Android 10 or 11? Bring it on. Please ad a small display wit time or settings in it like UT5 pro.

Comment by Harvey | 14.02.2021

Pls some news about the production and selling AM7

Comment by Mr. Trần | 16.02.2021

I hope there is a device that can use facebook, messenger mobile

Comment by Dean | 16.02.2021

Release date please?

Comment by Dean | 16.02.2021

Release date please?

Comment by Totò | 16.02.2021

In una mail che ho mandato mi hanno risposto che AM7 sarà in commercio non prima di aprile.

Comment by Totò | 16.02.2021

In una mail che ho mandato mi hanno risposto che AM7 sarà in commercio non prima di aprile.

Comment by Александр | 21.02.2021

Самый главный вопрос: какой процессор будет в АМ7? Стоит ли ждать данную модель или лучше взять АМ6 плюс? Нигде нет ответа....

Comment by Hesam | 01.03.2021

Whene it will be available for Europe?

Comment by Murat | 13.03.2021

Yaş gününü kutlayali 1 yıl oldu. 2. Yıl gelir artık

Comment by volkan | 15.03.2021

they lie that will never be produced

Comment by Matthieu Lauzon | 21.04.2021

Still the same Amlogic S922X-J ?

Comment by Matthieu Lauzon | 21.04.2021

Still the same Amlogic S922X-J ?

Comment by Karl Pajo | 06.05.2021

I already have first AM6. Excellent quality and performance. Can you provide an AU power plug with the AM7. Not the ill-fitting conversion plug. Karl.

Comment by tx | 15.05.2021

ugoos is stucked in 32gb and it is a disappointment

Comment by tx | 15.05.2021

ugoos is stucked in 32gb and it is a disappointment

Comment by Adil | 26.05.2021

hi we need 64 or 128 gb not 32 gb we hope job well coming soon Ugoos AM7 I won so long thank you

Comment by Peter | 02.06.2021

Why is it only 4gb? Can't we get an option for 8gb? Things get more and more resource hungry and 4gbwas the standard about 3 years ago.

Comment by Peter | 02.06.2021

Why is it only 4gb? Can't we get an option for 8gb? Things get more and more resource hungry and 4gbwas the standard about 3 years ago.

Comment by Fans | 15.06.2021

Still not out yet it been year better to change aspects

Comment by Nazim Ata | 27.06.2021

İm waiting over 7 months for Ugoos Am7 but no İnformation no news just nothing about, this is shamefull

Comment by Alex | 28.06.2021

Maybe it was a joke about this model?

Comment by Nazim Ata | 30.06.2021

En azından aldıgım bilgiye göre 3 adet USB 3.0 ve 3.1 olacak yeni kutuda bu iyi haber, umarım en geç AUGUSTOS/EYLÜL de piyasaya çikrtırlar

Comment by Yuming Sung | 12.08.2021

Can Am7 Support Dolby Vision & Dolby Atmos? Netflix? Apple Tv+? Disney+?

Comment by Nazim Ata | 09.10.2021

Hello Becky is any new news ebout my AM7 Thanks

Comment by Nazim | 10.11.2021

last month i buy a UGOOS AM 7 vhen i receive the item i wass happy buuuut... when i start to work with i wass in SCHOKT bekause the item was Broken i contact the schop and Ugoos they ask me to send video i send video but they ask me Again and Again i understand they lose only time with me No serious saillor no serious Company !! and what hapened !? İ Broke the item and throw away SHAME TO YOU

Comment by Nazim | 10.11.2021

last month i buy a UGOOS AM 7 vhen i receive the item i wass happy buuuut... when i start to work with i wass in SCHOKT bekause the item was Broken i contact the schop and Ugoos they ask me to send video i send video but they ask me Again and Again i understand they lose only time with me No serious saillor no serious Company !! and what hapened !? İ Broke the item and throw away SHAME TO YOU
Успешно отправленно