Beta Dual Boot Firmware v.0.2.8+ CoreElec for Ugoos AM6/AM6 Pro & X2/X3 Series models
IMPORTANT!
Please do not mix up with just additional boot from sd card, this is real dual boot firmware where you can switch the system using power menu.
This update will not come via OTA automatically. You need manually install this update in order to use it. Using release candidate firmware you still will be able to update your device via OTA, if you want to continue using automatic stable updates.
This is BETA release, so if you want the system update automatically, you need to wait Dual Boot build based on stable firmware.
So if you are totally ok with your current system and you are waiting for next stable firmware, you can pass this topic.
Overview
Dual Boot firmware is based on two systems: main OS is Android with our latest RC firmware v 0.2.8. Main system is a standard for this device and has regular updates. Here you can check latest details on improvements and bug fixes: https://ugoos.com/rc-firmware-v-0-2-8-for-ugoos-am6-am6-pro-x2-x3-series-models
The secondary system is CoreElec. CoreELEC is a 'Just enough OS' Linux distribution based on Kodi technology for popular Amlogic hardware. CoreELEC is a minor fork of LibreELEC. This project developed autonomously and spreads free for all users.
The system graphically consists of Kodi application with devices settings integrated in standard configuration settings. You can connect network, adjust resolution, configure SMB and local network settings right in application, that's why it called 'Just enough OS'.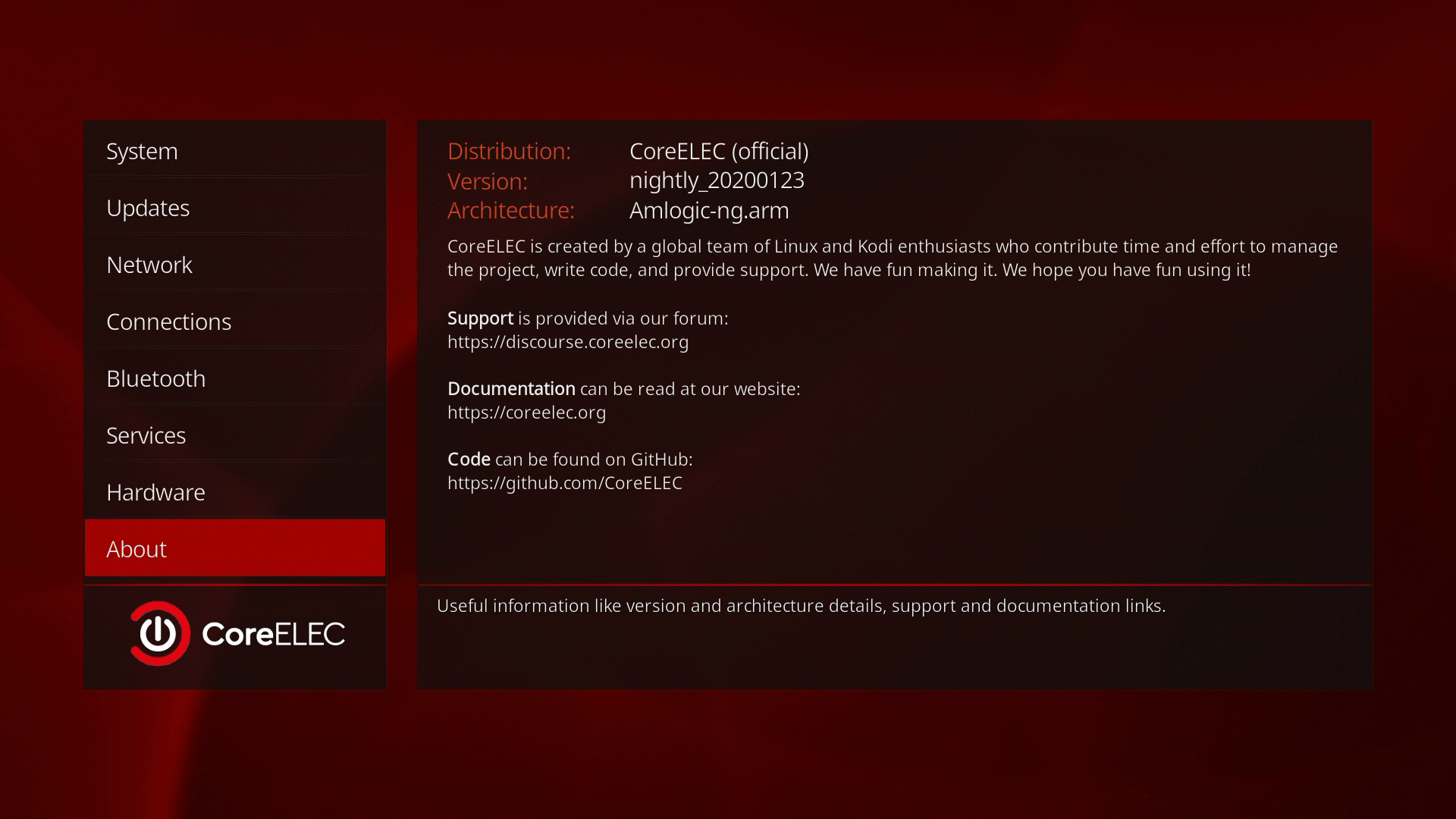 Creating this firmware, our goal was to provide choice to final users and make device experience more flexible.
CoreElec has several advantages in comparison with standard android system like:
Multi PCM sound support

Higher level CEC compatibility

Improved playback (in comparison with Kodi installed in Android)
Installation
Installation process looks like standard device reflashing, so you need following tools:
Image file
Host PC
USB OTG Cable
Supported host OS: Windows XP (32/64bit) Windows 7 (32/64bit) Windows 8 (32/64bit) Windows 10 (32/64bit)
Detailed reflashing guide you can find in FAQ section (https://ugoos.com/firmware-upgrade-guide-for-amlogic-devices)
Switching methods
As we mentioned before this system is a real dual boot version so device will not require additional hardware (sd card, or else) to start another system. After reflashing your device, a standard Android system will start normally as standard out of the box. The only one difference you can find there is modified power menu: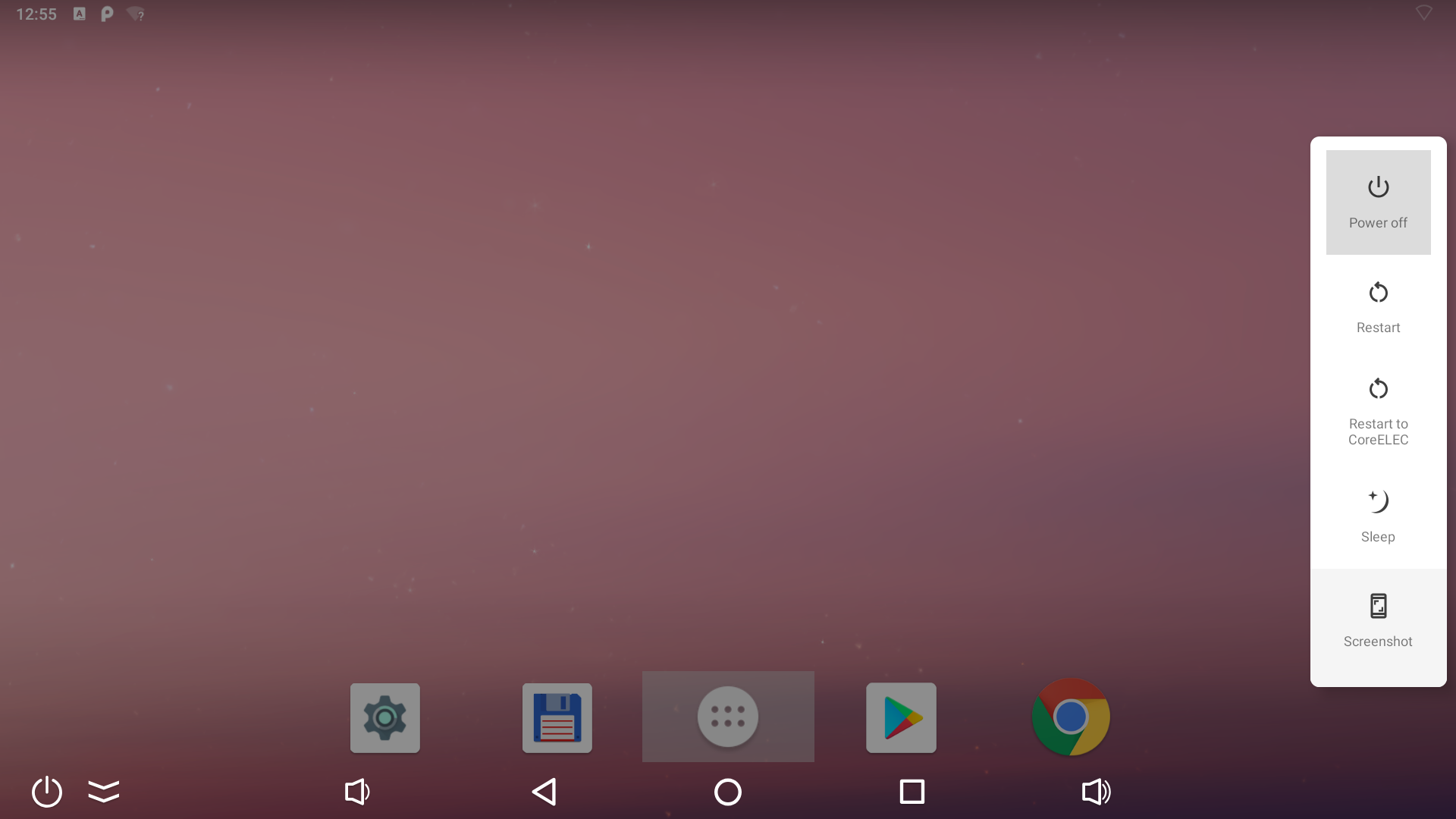 The second restart button will let you initialize a mechanism immediately switch system. You can configure both systems, save all data, apps and be sure after switching system back again all data will remain. Factory reset in Android boot will not cause any changes in CoreElec system as well.
Switch back to Android system you also can from power menu in main dialog window in CoreElec system. You need to choose "reboot from eMMC/NAND" function.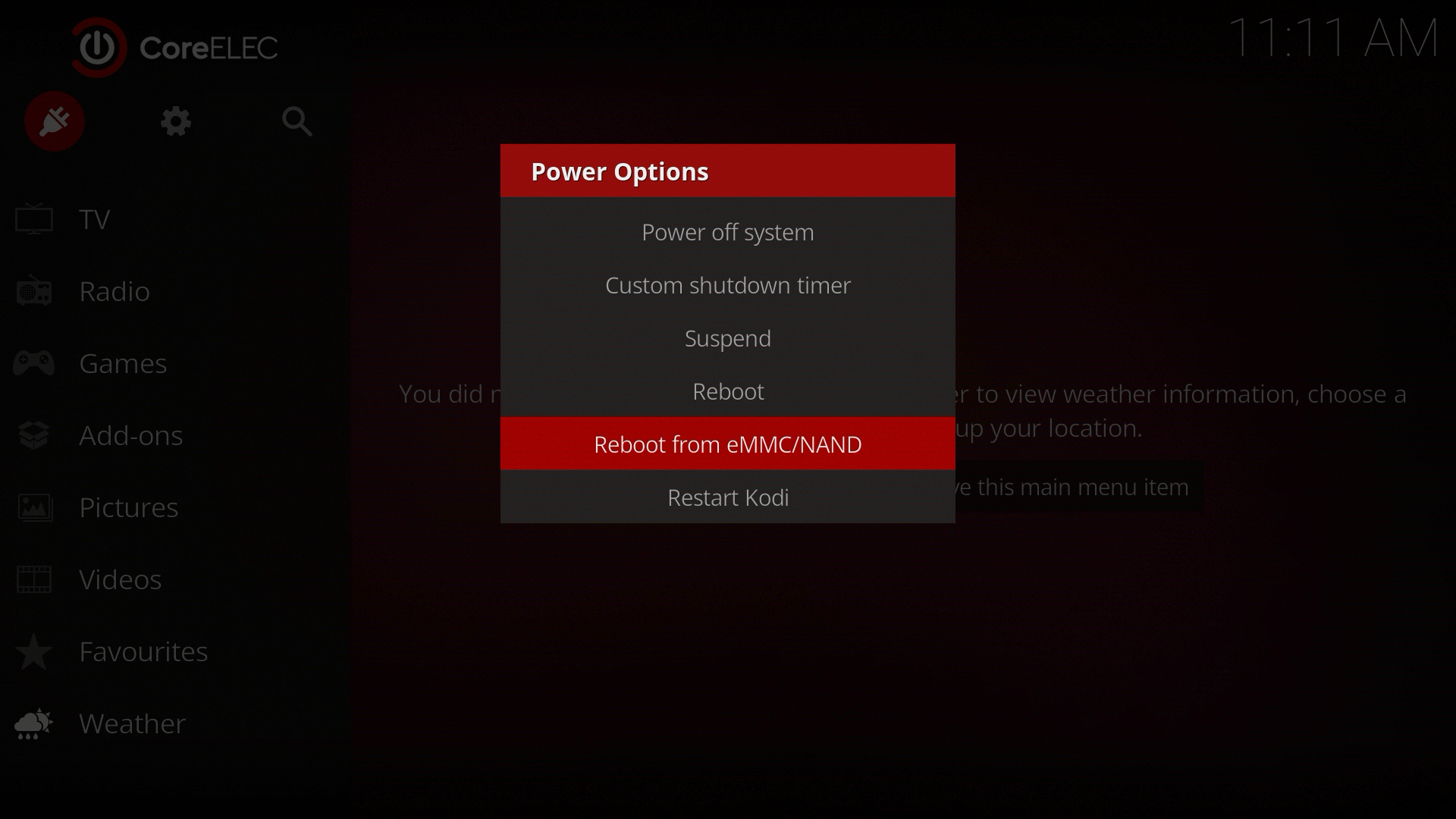 After turning off the device or standard restart the previous loaded system will start again and again until you switch it in power menu.
IMPORTANT!
This dual boot version built on Release candidate firmware, so it may cause to some bugs appeared. You can help us to track bugs and issues of a current build, we appreciate your help.
Files:
---
Comment(S) (16)
Comment by Marton | 24.11.2020

Hi! Please help, my device tv box, h96max x3 amlogic s905x3 soc, 4gbyteram, installed Corelec microsd card, run ok. You dualboot androidCE rom compatible h96maxx3? How to install? Thanks comment.

Comment by decosse | 01.03.2020

Great turnkey solution Ugoos - you are taking all the work out of it by providing a ROM with both OS co-existing. I am anxiously awaiting my AM6 Plus to arrive and will definitely try this. I see your notes cover updating, which I think predominantly refers to the AM6 firmware - but how about the CoreELEC however? What version of CE is in the dual-boot ROM currently and can you update the CE after it has been installed, by 'normal' CE update methods, without requiring complete re-install?

Comment by Kamil | 17.03.2020

Thank You for dual boot version. Unfortunatelly HBO GO informs that box is rooted and application not working. Ugoos X2 Cube, 0.2.8+ dual boot CE

Comment by S | 03.05.2020

This is fantastic and works very well. I had to adjust some settings in coreelec but outside of that it was great. Weird issue that coreelec seems to try to update but then fails creating a longer startup then keeps asking me to update (even when after disabling notifications but guessing because it already downloaded or something?). Would be great if that part could be fixed or removed so I don't get bothered with updates in coreelec then maybe to update it once its out of beta through android instead or something. Many thanks and I hope to see some updates of this soon since the coreelec in this image is a few months old now.

Comment by S | 06.05.2020

*Update from previous comment: For whatever reason update from coreelec seemed to work I decided to try again (since it kept nagging me despite turning off the settings) but since I had some audio skipping in videos which does not happen in the android part. Not sure what the issue could be but was not an issue when I originally installed this so it might have came from an update, which is annoying because its either reinstall the image and get bothered by the available updates or hope an update can reverse this.

Comment by Angelos | 10.05.2020

I have the latest singleboot firmware 0.3.2. In my am6 plus. I would like to install dualboot firmware. I suppose that I have to install this one first 0.2.8. and after the update. Which way I have to choose to install it? Can I install it from recovery?

Comment by decosse | 20.05.2020

I just installed the v0.3.2 Dual Boot Firmware The process itself went very smoothly and looks encouraging - I was initially excited to use this feature However I find that the CE partition is much too small .......... After loading I tried to install my CE Backup file (which was created running CE from SD Card on the AM6 Plus) - this backup file is ~1GB When trying to 'restore' this backup, immediately got error saying "not enough free storage space to continue" I checked with CE Support and they said it is known issue within CE community that the Ugoos factory CE dual-boot partition space is too small. So request - please increase the CE partition size. Also - why use Nightly version? Why not latest release 9.2.2? This can/will be a really nice feature - but with the partition size currently, it is just not practical to use.

Comment by decosse | 27.05.2020

Update to my comment above - see release notes for v0.3.3 - Ugoos has accommodated BOTH of my suggestions above with an increase in the Partition Size for CE AND also used the stable 9.2.2. ( the user himself can decide if they want to use nightlies) So my comments above, especially the CE Partition size limitation are no longer valid Thank you Ugoos!!

Comment by Janaboy | 03.06.2020

Where i can find the updated dual fw? With 0.3.3 amd stable CE?

Comment by Robbie Hart | 07.01.2023

I have a HK1 (s905X3) similar to Super Console X, is there a dual-rom for EmuELEC instead of CoreELEC?

Comment by ALEX | 11.06.2020

Ждем с нетерпением CoreElec 9.2.3!!! Dual fw

Comment by Hristo | 22.06.2020

Does dts-hd passthrough sound work?

Comment by Adrian | 23.06.2020

I currently have firmware v0.3.3 on my AM6. Is it only possible to get CoreElec by installing v0.2.8 or will you be updating the package to work with later firmware?

Comment by OZK649 | 09.07.2020

I have the 32 GB MODEL which I mainly got for dual boot (CoreElec and Android firmware) I did not realize at the time that the CE partition is only increased to 2 GB which is used up fairly quickly once you install your favorite addons. I will request the devs to please release a version of firmware with at least 8GB allocated for CoreElec for those of us who mainly want this device for CoreElec and want to use Android on the side only for certain apps that do not take a lot of space. Thank you so much for your consideration

Comment by OZK649 | 09.07.2020

I have the 32 GB MODEL which I mainly got for dual boot (CoreElec and Android firmware) I did not realize at the time that the CE partition is only increased to 2 GB which is used up fairly quickly once you install your favorite addons. I will request the devs to please release a version of firmware with at least 8GB allocated for CoreElec for those of us who mainly want this device for CoreElec and want to use Android on the side only for certain apps that do not take a lot of space. Thank you so much for your consideration

Comment by Ivan | 27.07.2020

Hello, I installed: Beta Dual Boot Firmware v.0.2.8 + CoreElec on Ugoos AM6 When I start Coreelec I see this error, what is the reason for this? Can it be fixed? could not mount LABEL=CE_STORAGE
Успешно отправленно